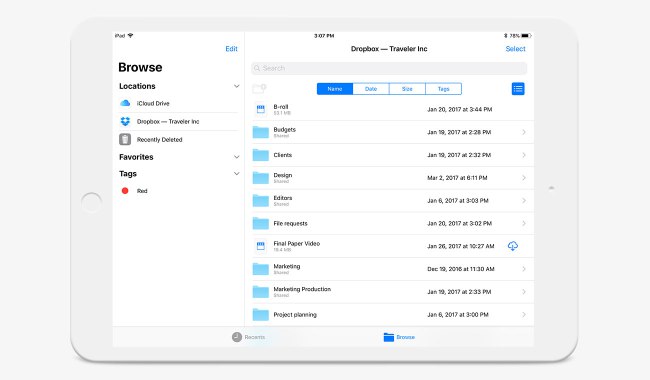 Dropbox es una de las herramientas mas populares para mantener nuestros archivos en la nube, bien por respaldo o por facilidad de acceso, con simplemente tener una conexión a internet podremos tener acceso a estos archivos.
Ahora con el lanzamiento de iOS 11, este sustituye la app de almacenamiento iCloud Drive con "Files", una app que permite acceder a nuestros archivos en iCloud, pero también permite la integración con servicios de terceros, entre ellos Dropbox.
El beneficio es que "Files" está como un servidor de archivos entre iOS, lo que permite utilizarlos desde cualquier aplicación, digamos, que queremos subir un archivo a una página, o enviarlo por correo, bueno, pues ahora podremos usar el motor nativo de iOS para seleccionar este archivo incluso si está en Dropbox.
Aparte de esta integración, Dropbox agrega soporte para HEIF y HEVC que son nuevos formatos para imágenes y video soportados ahora en iOS 11. Cuando se suben los archivos podremos escoger si queremos que se conviertan al. nuevo formato.
La nueva versión de Dropbox no está disponible todavía pero llegará a cada unos de los usuarios de Dropbox mediante la App Store. El soporte para HEIF y HEVC estará disponible para los usuarios de Dropbox cuando se actualicen a iOS 11.
Dropbox support for the new Files app, HEIF photos, and HEVC video will save you time and help you collaborate from anywhere more easily.
Source: Coming your way: Dropbox for iOS 11 | | Dropbox Blog
2,094 total views, 1 views today