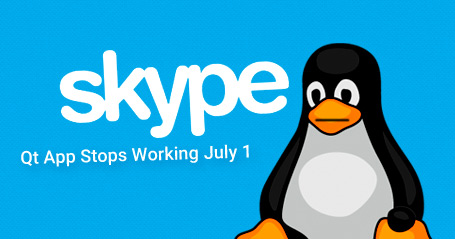 Skype en Linux siempre fue como que el patito feo pero con el que tuvimos que jalar para poder hacer videollamadas. Por un tiempo estuvo a la par de la versión de Windows o ligeramente atrás pero desde hace unos años la app de Linux no ha recidibo nada de amor, incluso la de Mac se ve algo atrazada con respecto a la versión de Windows.
La versión nativa de Skype usa QT y dejara de estar disponible a partir del primero de Julio. Para los usuarios de Linux que quieran continuar usando Skype deberán usar una versión "web app" de Skype que usa "Electron" como motor.
Desafortundamente esta app solo permite conversciones via Texto y Videollamadas pero no permite funciones avanzadas como el compartir nuestro escritorio, el accceso via API o los controles de Audio/Video avanzados.
Debido a la falta de actualizaciones por parte de Skype en el escritorio Linux muchos usuarios han volteado a alternativas como Telegram, Wire, Viver o Slack.
If you use Skype 4.3 on Linux I've some bad news as Microsoft has said the Qt Skype Linux app will no longer work from July 1, 2017.
Source: The Native Skype Linux App Will Stop Working July 1 – OMG! Ubuntu!
1,770 total views, 1 views today